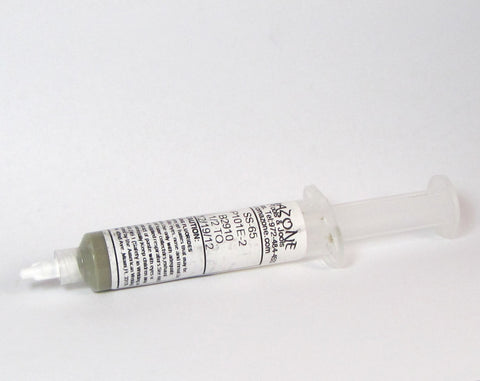 Easy Silver Solder, silver solder Paste, .5 oz tube, use with torch, 65 solder paste, soldering sterling, flux mixed in
Easy Sterling silver Solder Paste .5 oz #65
This solder paste has a slightly higher flow temp of 1325 degrees than the extra easy solder that is 1205. It important to note that for a solder operation to be successful, both items to be joint must be clean and metal to metal. The flux that is mixed into the paste is only a short time period barrier to oxidation that occurs when silver is torched. Prolonged heating will guarantee a failed solder, as this scorches away the flux. Both items to be joined must be able to reach flow temperature quickly. 
* Caution*
Contains fluorides that when heated give off fumes that may be poisonous or irritate the eyes, nose and throat.DO not breath fumes. Use only in well ventilated conditions.
This is great for soldering with the micro torch But only small solder projects. 
We have solder pads, third hands, pickling acid granules, steel wool and locking tweezers just to list a few of the tools and supplies that are needed to perform soldering operations successfully. 
Questions & Answers
Have a Question?
Be the first to ask a question about this.
Ask a Question