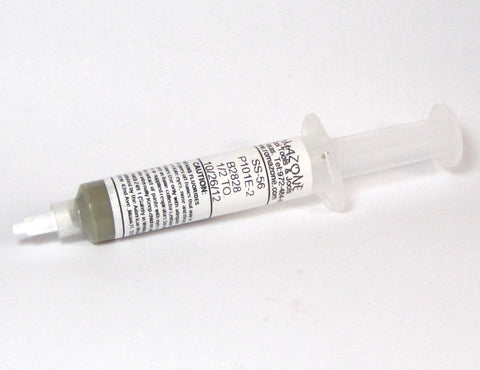 Extra Easy solder, Silver Solder Paste, .5 oz Syringe, convenient #56 for torch soldering
Extra Easy Silver Solder Paste .5 oz Syringe convenient #56 for torch soldering. This solder paste has the flux mixed in. As long as you can heat up the items your joining quickly, this paste will work great. Prolonged heating will scorch away the flux and soldering will not happen. All the tools needed to solder projects are here in the Soldering collection.
This is a good choice for use with a butane micro torch. This however is not a good choice for a pencil torch. The solder offer good results for bezel setting and silver soldering projects.   
#56 flow temp 1205 degrees, requires a torch.
Caution
Contains fluorides that when heated give off fumes that may be poisonous or irritate the eyes, nose and throat.DO not breath fumes. Use only in well ventilated conditions.
Questions & Answers
Have a Question?
Be the first to ask a question about this.
Ask a Question