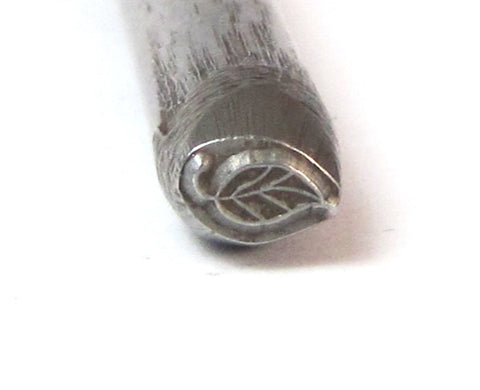 LEAF with smooth edges, tree leaf, foliage stamp, for metal stamping, 5.5x4mm
Leaf design with smooth edges heat treated steel stamp.Each stamp is a wonderful design that will enhance anything you add them too. Earrings, Bracelets rings and so much more. The boundary is as big as your imagination. Step into the awesome world of silver stamping. Stamping tips.
*Tape down what your stamping with blue painters tape onto your steel block.
*stamp on a larger steel block.
*mark my stamps with a sharpie at the 6 o'clock on the design to guide you on alignment.
* take your time and make sure the stamp is not tilted in relation to the block.
* Before striking the stamp, gently rock the stamp on the steel block while pressing down to find the seat.
* Once it's seated, press firmly and strike.
* be sure your hammer strike is strictly a vertical motion. Angled strikes will not result in a good impression.
*All this is done in a matter of seconds. It definitely takes practice.
I generally use a 8 oz hammer.
Design stamps don't stamp the same as letter stamps. More care has to be taken to get a consistent result.
These work great with the sterling silver sheet or sterling ovals or discs soon to available in my store. You can use them on copper too. Make sure the metal is dead soft. Hold the stamp firmly on the silver. Do your stamping on a smooth steel block or anvil. Make sure the block is on a stable surface. You do not want your block to bounce. I sometimes use a few sheets of news paper folded into a 1/8 to remove the bounce. Use a flat face hammer. If you have never worked with pattern stamps, you might try stamping a scrap of leather, copper or sterling sheet that you could solder later as a design element.
Questions & Answers
Have a Question?
Be the first to ask a question about this.
Ask a Question