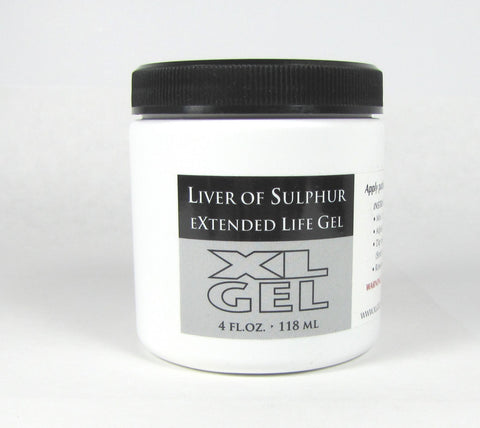 Liver of Sulfur gel 4 oz jar Easy to use with longer work time
You can use this with a stipple brush in gel form or thin with water to make it any consistency you wish. It has a longer work time than the dry form also. This gel has performed brilliantly during my bench tests.
Liver of sulfur gel.
NEW product to antique your silver copper & bronze.
This new product is much easier to use in small quantities than the Dry LOS. The gel formula clings to the items nicely to insure a good coverage. Use a small brush for detail applications. Can be diluted with hot water for faster action.
You can use it directly form the bottle in gel form. The items just need to be warm to work fast. The most effective way to use is.
Heat 1 cup of water in a glass jar with a wide mouth in microwave. Add approximately a .5 tea sp of gel into the water. Mix with a plastic spoon and add your metal..
The jar and spoon will need to set aside for only this use. Once the water is cold it will be bad and poured down the drain along with plenty of water. After taking the items out with tweezers have a clean dish of water or rinse under running water and dry.
thanks
Roma
Questions & Answers
Have a Question?
Be the first to ask a question about this.
Ask a Question