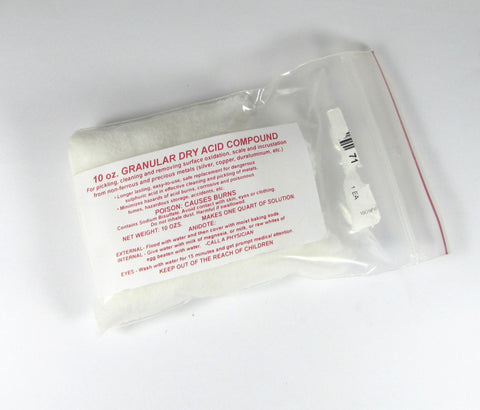 Silver Pickling granules, removes torch oxides, from soldering tasks
Granular dry acid removes surface oxidation and flux from silver, gold, and copper. Not for use with nickel silver or red brass. Avoid contact with eyes, skin, or clothing. This is a long-lasting and easy to use replacement for dangerous sulfuric acid. For use on silver, gold and copper to remove flux and surface oxidation after soldering. Not for use with nickel silver or red brass.
To remove fire scale or oxidation from silver or copper you will need to bathe your item to be soldered in warm pickle solution. To do this you need a small crock pot and some pickling granules. The granules need to be dissolved in water and heated to work fast. In class, we use about 1 heaping teaspoon to 2 cups water.
Safety is always your responsibility. The dust from these granules and the steam from hot pickle is not good to breathe. I recommend once you have your pickle pot set up, to always vent the lid away from your face by keeping the lid down closest to your body and tilt it on the far side of the pot. Always vent the puff of steam away from you and then you can remove the lid and put in your newly soldered items.
Be sure to add your items gently so you do not splash. I have gotten the hot pickle on an open cut and it did smart.
If you do get some on your hands, flush with cool water and you should be fine. The only metals that can go into the pickle pot are silver and copper…..so you need to use copper tongs to remove items from the pot.
You will want a clean dish of water next to you pickle pot to neutralize the pickle when you pull out your items. Your items will come out nice and white ready either for another solder or ready to be polished in the tumbler. After you have tumbled your items it will be super bright and shiny.
thanks
R
Questions & Answers
Have a Question?
Be the first to ask a question about this.
Ask a Question