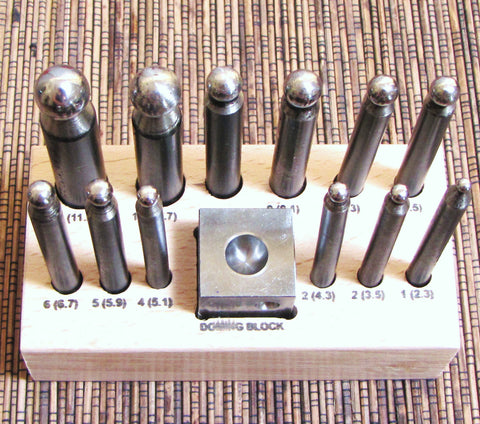 Steel Dapping set, small detail working, punches and block, petite tool set
This set is perfect for bead stringing artists that love to make custom findings for their creations.
You get 12 Carbon Steel Punches, 1 Carbon Steel Doming Block - 1" x 1" x 1", 1 Wooden Stand.
Mini baby capping set.
Punch sizes, 2.3mm, 3.5mm, 4.3mm, 5.1mm, 5.9mm, 6.7mm, 7.5mm, 8.3mm, 9.1mm, 9.9mm, 10.7mm, 11.5mm. Punches are approx. 3.5" long
Small baby steel capping set.
Dome block pocket sizes, 3.5mm, 3.9mm, 4.5mm, 5mm, 6.5mm, 7mm, 7.5mm, 8.8mm, 9mm, 10mm, 11mm, 12.5mm.
You will love this little workhorse gem.
Questions & Answers
Have a Question?
Be the first to ask a question about this.
Ask a Question